Thursday, 27 May 2010
Dressing for success to get that job? Plan Now...
Dressing for success at work and in an interview are very important...Here is a great article for those college students who may need a bit of encouragement to go the extra mile when looking for a job!
Please feel free to call or e-mail me to set up a complimentary consultation.
Happy Shopping!
Mila
mila@modaimageconsulting.com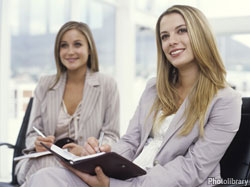 (ARA) - Remember how you would lay out your clothes the night before you went to school? You may want to continue that habit - if you're in the market for a job or want to hold on to your current position. Preparation goes a long way when it comes to making a good impression.
"Always dress one notch higher than you think is needed. It's better to err on the side of dressing more conservative," says Nancy Cerny, director of Career Services at Brown Mackie College - Quad Cities located in Moline, Ill. Cerny, who works closely with graduating students, even recommends putting in a call to the receptionist at the company you are interviewing with to ask about appropriate office attire. "It's better to be overdressed than underdressed in any professional situation," adds Cerny.
Organizing your business and interview wardrobe begins well before graduation. Also, dressing for success can be a little expensive. Trips to Goodwill Industries, consignment shops, and second-hand stores are always wise moves when personal cash is limited. "You really don't have to spend a lot of money to look professional, but you do need to spend a good amount of time planning for it, "says Cerny.
The toughest lesson for Generation Y is to encourage them to keep their professional image separate from their personal image, according to "Managing Generation Y," co-authored by Bruce Tulgan and Carolyn Martin. What you wear on weekends is not always appropriate for the office. "During a trip to the shopping mall you often see women dressed in tank tops with their bra straps showing and it seems to be socially acceptable attire, but in a business setting - it's not OK," Cerny says. "The same goes for men who wear baggy jeans with their underwear showing. You need to know where to draw the line between your professional and social image."
Put yourself in the place of the potential employer. Look in the mirror and ask yourself, "If I were a person meeting me for the first time would I hire myself?" Sometimes when you step into the shoes of another person, you may just send yourself a rejection letter.
Always lean toward solid, conservative colors for women, such as black, blue or dark gray. For men, a dark blue, gray or brown suit with a plain white shirt is appropriate. A $4 can of shoe polish makes a man look more appropriate for an office job, but starting your day with clean shoes is a must for any job, whether it be in the office or in the field, according to Cerny.
Both men and women should pay attention to grooming. Nails should always be clean and neatly trimmed. "It's best to have a basic nail color - no stripes or polka dots," says Cerny. "For men, you don't want to look like you've just changed the oil in your car. Dirty nails are a turn-off."
While your clothing should be conservative, your hair should also be businesslike. "Women should avoid putting different colors in their hair, like orange, red and blue. When preparing for interviews, leave the colored hair pieces behind," Cerny says.
"Fifty percent of interviews will be judged within the first 30 seconds of the interview - based on your appearance," says Joanne Pobiner, certified image consultant and professional member of the Association of Image Consultants International. "First impressions can determine whether you get a job offer. With such a tough job market, you must be on board with these tips," Cerny adds.
Don't wear a lot of perfume or aftershave. "You don't want to smell like a perfume or cologne counter salesperson. Smell is a strong sense. If you walk into a building and they can smell you in the back of the office, that's not good."
For your success, the way you dress and the first impression you make during an interview could get you a job offer or a rejection letter. So, be prepared when you leave for that interview, knowing that you will make a lasting impression on the interviewer.
Courtesy of ARAcontent
---
Image | Brand | Fashion
info@modaimageconsulting.com | www.ModaImageConsulting.com
Direct: (615) 218.6831 | Office: (615) 567.6969


Consultations are always complimentary!
Posted on 05/27/2010 12:00 AM by Mila Grigg, CEO
Tuesday, 18 May 2010
April 2010 Newsletter - Spring cleaning time!
Spring has sprung and the fabulous fashions have arrived!  Spring is a time for cleaning out the old and bringing in the new…if you are not happy with your current wardrobe, now is the time to change it and buy the clothes that not only look good but make you feel great every day!
One of the most common fashion mistakes that I find in closets has to do with the fit' of clothing. Have you ever bought an item because it was on clearance or was a trend that you just knew you would wear but never did? Common mistake!   This month in Glamour Magazine, they will tell you to take a style risk' by wearing shoulder pads, straight skirts, high-waisted pieces of clothing, socks with heels (awful…) and much more. Style risks' are just that, risks. When you buy a piece of clothing, you should follow a few rules…
 Rules to follow to ensure you do not make common fashion mistakes.
1. Think FIT FIRST - This is the number one most important rule to follow. Many women and men buy oversized clothing thinking that it will hide their imperfections. Unfortunately, the resulting effect is sloppiness and a lack of femininity.
Also, don't buy pieces of clothing that are too small thinking that you will lose the extra 5 or 10 pounds.  Even when you do lose the weight, your body shape does not always stay the same and the smaller pieces of clothing may not fit you right' anyway.
2. Your foundations will make or break your outfit.  Most women are wearing the wrong size bra.  If you haven't been fitted in a while, it is worth being measured by an expert! One of the other common mistakes made is showing panty lines when wearing well fitted pants or skirts.

3. Know your brand.  Your "brand" is the first thing people think about you when they see you and is your most visible credential your brand sticks with you - it is what people envision even when you are not with them.  In order to be consistent, you must know what your brand is.  When buying an item of clothing, think does this match my brand?  Is this something I would wear with confidence?  Does it complement who I am?
On a personal note…I recently tried on a military inspired jacket that is a huge trend for spring.  It looked fantastic, but I knew that I would never wear it as it just didn't match' nor did it complement' my own brand.  It was too structured and didn't say what I needed it to say.  In essence, it did not represent me well and would not make the right' first impression.
4). For those of you who are petite' most of the time, I will not dress my clients in petite clothing.  If you know your body shape, you can shop for regular clothing and hem your pants properly.  Most of the time, petite clothing just does not fit' as well as it could and it is worth getting pants hemmed when they fit you in the stride.
5). Does it make you FEEL good?  If you try something on and you don't feel confident, don't buy it.  Many closets have numerous items that are just ok' and are a complete waste of money. If you try it on and don't love it, take it off and keep shopping.
Your clothing should make you feel confident.  When in doubt, buy pieces that are classic and stay away from trends you are unsure of.  Please let me know if I can help you to dress with confidence and discover what fits' work for your body type!
I look forward to serving you.  Consultations are always complimentary!


Happy Shopping,
Mila
mila@modaimageconsulting.com
---
Here are a few of my favorite spring updates worth investing in!
Sunglasses: Sunglasses are worth the investment since you wear them daily.  Make sure to pick the right shape for your face - do not buy an 'aviator' just because it is a trend.


Bags: An easy way to update your spring wardrobe is with a fantastic bag...buy one that you can dress up or down.  Again, this is worth the investment since you wear this daily!  You can have fun with this for spring and summer - ruffles, bright colors and accents are ways to express your own personality. 
Scarves:  Fun accents to throw on even with a white tee to spruce up your daily outfit!
Sandals:  Invest in one great pair of neutral sandals that make a statement!
---
Image | Brand | Fashion
info@modaimageconsulting.com | www.ModaImageConsulting.com
Direct: (615) 218.6831 | Office: (615) 567.6969


Consultations are always complimentary!
Posted on 05/18/2010 12:00 AM by Mila Grigg, CEO
Tuesday, 18 May 2010
May 2010 Newsletter - Should you still shop if you are losing weight?
Dear Clients and Friends,
This is a tough question…but more importantly, how should you feel' while you are losing weight.
 
I find that if you look great, you feel great and are motivated to do things that you typically would not do. Putting on your gym clothes and working up a sweat requires more than physical effort, it requires mental motivation looking good during the process will help you to keep going down the weight loss road.
 
So should you wait to buy new things as you lose weight? Definitely not! "Clothes can be a barometer of how you feel, as well as how much you weigh, says Madelyn Fernstrom, PhD, director of the University of Pittsburgh Medical Center's Weight Management Center: "Some people say, 'I won't buy anything new until I have lost 15 pounds. The rule of thumb, Fernstrom says, is that losing 8 to 10 pounds translates to going down one size. Still, if you lose "up to 15 pounds, you may be ok in your old size," she says.
 
I have been in numerous closets over the years, and I have seen up to 6 sizes in one closet at a time and most things haven't been worn in at least over 2 years. Multiple sizes don't do anything but clutter your closet and make you feel worse After a few years, your body can change shape, and a size 8 in one style will probably not fit you the same way anyway. Take the first step - throw out anything you haven't worn in over 2 years…I would say 1 year, but I know for many of you reading this that is easier said than done! (You know who you are).
 
The key to feeling great while losing weight is to not reach for the same clothes you have been wearing…if it is baggy, don't put it on! Clothes make you feel and look slimmer or will make you feel and look dumpy…avoid baggy, ill-fitting clothing during this process. Dressing to look your best, no matter where you are in your weight loss program, will inspire you to keep going.
 
There are some universal rules to fit' when it comes to the cut of clothing that will flatter you for longer periods of time.
 
Sharon Haver, founder and style director of FocusOnStyle.com, advises dieters to concentrate on flattering, well-fitting basics. "A shirt, a pair of pants; things with a bit of stretch -- meaning some Lycra or an elastic waist." Pants without a set-in waistband are easier to take in. A-line skirts show the "you" underneath, and, when they get a little loose, won't look as baggy as a too-large pencil skirt would, she says. "Why would you want to feel frumpy at any stage of your journey?" Haver asks. "You want people to notice every pound you lose and say, 'You look fantastic!'"
 
Knowing the lines that work best for you is important when shopping for clothing at any weight.  You want pieces that will look good now and when you are 8 pounds lighter. Waiting to buy new clothes is a huge mistake - you don't have to break the bank, but the basics are very important.  Another trick is how you use your accessories while losing weight…necklaces that land in the right places and belts that cinch in a shirt can help a piece of clothing last much longer. Certain colors, in specific places can create wonderful illusions. Pants that have HIDDEN elastic or stretch in certain places is a trick I help my clients with or buying brands that are good quality, but won't eat up your entire budget. Once you've lost the weight, you can really invest in the basics then, but looking awful during the process won't keep you motivated.
 
Buying pieces that will look good now as well as 8-10 pounds lighter is the key…Please let me know if I can help you in your weight loss journey!
Mila
---
Image | Brand | Fashion
info@modaimageconsulting.com | www.ModaImageConsulting.com
Direct: (615) 218.6831 | Office: (615) 567.6969


Consultations are always complimentary!
---
Photo courtesy of www.istockphoto.com
Posted on 05/18/2010 12:00 AM by Mila Grigg, CEO