Tuesday, 25 January 2011
Politically Fashionably Incorrect
One of my fashion and life inspirations is my grandmother - the picture on the left was taken ca. 1943 in Montecatini Terme, Italy (Near Tuscany).  She had recenly been released from a displaced person's camp after fighting in the war to protect her family - This is a real woman...AND, she looks MARVELOUS!

In today's world of never wanting to offend anyone and agreeing with everyone, I must finally share some TRUTH.  I read the same magazines that many of you read, both men's and women's, and I am so tired of seeing articles that tell people everyone is wild and crazy, there is no absolute truth and celebrities are the fashion center of the world. This is my attempt to point out a few obvious facts that everyone needs to observe in today's Politically Correct atmosphere that is leading America and America's youth astray.

Some of the best teachers I had growing up and still have today, led by example - One of them being my mother. She works hard, provides for her family, still cooks amazing meals, lends a helping hand to many and takes the time to make certain her hair is ready everyday!  She looks after her granddaughter while looking fabulous in current clothing trends that are up to date.  She also believes in saying yes m am and no sir and teaching manners and respect for ones elders. She is an example of a mother who still believes in a few "old fashioned ideas."  She clearly had a fantastic example in my grandmother and followed her lead!

The best teachers lead by example, and that will always be the case.  So each of us should examine WHOSE EXAMPLE we are following.  Do we follow the crowd, start to dress as though we are 20 when we are 40, or like we forgot that sexy does not always mean being scantily clad.  Fashion is not about stilettos, miniskirts, pants too tight to sit down in or the least amount of clothing possible. The real men that I have met and dressed still love the idea of MYSTERY.  When you can see the entire package, so can everyone else.  So many broken hearted women share stories of relationships that have failed when they first decided to be what they aren't, or dress like someone they thought they wanted to be. This is true for women and men, ages 12 to 70.  Let's be real for once, it is still OK to dress and be exciting yet not share all you have with all who look.  Just last week I was reading a fashion consultants comments about marriage and she wrote that virginity is overrated and women and men should explore as many partners as possible.  Well, by looking at the way she dressed and the two husbands she had already had, I would suggest perhaps she pick another line of work or try a different plan that builds intimacy over more than a drink and 24 hours.  My personal disclaimer is that I am nowhere near perfect and am truly the least judgmental person The truth is that I have made enough mistakes large and small along the way and learned valuable lessons to know what I'm saying is true!

Women, listen to me!  It's great to be sexy and it's wonderful to be admired.  We all want to look great and everyone loves to be beautiful, intelligent and wanted.  You do not have to take off your clothes and believe the lies of faster to bed, quicker to marriage.  The best marriages and best relationships are built over time.  Sexual clothing and sexual actions do not mean sexual success or a happy relationship.  This is true for daughters and sons as well.  Parents and older adults need to start giving our youth an example they can follow.  I have read that the best way to learn about REAL LOVE is to observe it in the ones we admire and respect.  Parents and adults, that means US!  Traditional values are not dead; they are just no longer taught in schools and rarely observed in movies and TV.  So we, those in the fashion industry, and adults, need to start setting a real example for others to see and follow.  Men and women can be very sexy, their clothing can say "I am wonderful come and meet me" and their fashion can say "I know who I am, I love who I am, and I look MARVELOUS."  Mothers and fathers can start telling their daughters and sons the value of waiting on Mr. Right and Ms. Amazing, there is no hurry.  Even if they didn't do that themselves just because we make mistakes does not mean we can't teach a better way or lead someone down a superior path than one we went on.  We are meant to learn from the mistakes in our past and teach people we love from them.  Each one of us was created by an amazing creator for a purpose.  I can assure you that the purpose is not to dress in a manner that says, "I do not love me, so will you please come and love me" or " I am too hot for my own good so you should come and adore how I look and forget about knowing the real me inside."
I love clothing, I love fashion, I love personal branding and helping my clients discover the beauty deep inside.  I love sharing my ideas and tricks of the trade with male and female clients. I am excited about our youth today, excited about the traditional values that go against the common idea of "Everything Goes."  Fashion is all about making a statement, but unlike some fashion consultants who would have you believe that statement is about what someone else tells you to believe and impressing everyone else that statement should be about WHO YOU ARE AND WHAT YOU BELEIVE.
 
Success starts at the center of the heart.  If you can't love you, then you can never love someone else.  If you are 40, then you're gorgeous at 40 - you do not have to dress like you are 20.  If you're 20, you can be sexy and exciting and still not freeze in cold weather because you have nothing on.  Men can be men and still "Dress for success, open doors and represent themselves as a man."  I am so tired of being politically correct about fashion.  We can lead by example, we can be the best teacher, and we can learn from others, but most of all WE CAN BE TRUE TO WHO WE REALLY ARE!!!  I look forward to helping you and serving your fashion and image needs.  I am excited by the revival of real fashion and helping women and men create a statement that sons and daughters can emulate and everyone can be proud of.  You will never make everyone happy, but then again YOU DON'T HAVE TO!  Please call me if I can serve you, your business or a special person in your life.
Warmest,
Mila
---
Image | Brand | Fashion
Mila@modaimageconsulting.com | www.ModaImageConsulting.com
Direct: (615) 218.6831 | Office: (615) 567.6969
Posted on 01/25/2011 12:35 PM by Mila Grigg, President MODA Image Consulting
Thursday, 13 January 2011
January 2011 Newsletter - The Year
January is here, and I know that most of us are welcoming 2011!  Last year was a challenging year for many of us, but a year where our personal resolve to overcome difficulties and challenges is now behind us and we are stronger for it.  My prayer is that America seeks to return to the basic truths that make our country THE GREATEST COUNTRY IN THE WORLD.  We can all have different backgrounds, faiths and goals…but what makes this melting pot of diversity work is our nationwide commitment to truth, honesty and our God given right to be free!

The cold winds of winter will soon lead to the beauty of spring and the warmth of summer.  Do not let the cold days of winter determine your attitude and outlook for 2011.  Enjoy each God given day you have been given and seek to reach your personal and professional goals with a new zeal for life and passion for excellence.  MODA Image Consulting is focused on helping you reach new professional and personal goals at work, at home and in your relationships.  I work in the fashion and image industry; an industry that thrives on how you look and how you want others to look at you.  Here is a basic truth I have learned - clothing will not cure, nor will fashion fix issues of the heart, soul and mind. If you want to make 2011 the best year it can be for you, then begin with a personal self inspection and seek the "real you" that is on the inside. True victory begins when we understand that none of us are perfect and we all have room for personal improvement.   

Personally, I love helping people discover how to share WHO THEY ARE with the world around them.  I enjoy turning the inside person into an outside reflection that represents all they are and want to be.  This includes personal branding, professional branding and updating your look to reflect the changes that have taken place in your life.

You can set your mood each day by what you wear.  Choosing colors that excite you, fashion that highlights you and design that delights you is the key!  Make 2011 the year you plan "TO BE."

* To be an example for others by looking your best

*To be a visual burst of energy

* To be excited to get started each day in your closet

*To be empowered because you are unique

*To be confident on the inside and reflect that on the outside

*To be in control of how others see you

*To be a creator of your image! (Do not let others create one for you).

*To be determined and know that it is ok to stand out in the crowd

*TO BE YOU

Sign up for my e-mail program to receive articles and tips that I guarantee will provide added value to your life.  Let us get together and turn your 2011 into all you want the year "TO BE!"  I would love to help you in any way I can!

Warmest,
Mila
---
My closet basics for 2011 are below...These are a few basics that 'most' closets should have! (More basics in my next newsletter!)
A white button down shirt:
My new favorite is called, The Shirt by Rochelle Behrens
 
I saw her on the Today Show and I was sold.  This is from Rochelle's website, www.theshirt.com. "This white shirt will keep you looking crisp and feeling confident in any weather, thanks to its anti-pucker technology. "When you're looking for a white shirt, many times it doesn't fit across your bust and you're popping out," he says. "It has dual buttons right there in the spots where you need dual buttons."

At $80, The Shirt by Rochelle Behrens comes in five different colors. "It is for all-busted women," he says. "Now you don't have to put tape or safety pins and all this stuff that doesn't work."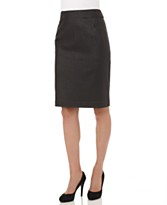 Black Pencil Skirt
This figure-flattering skirt can be paired with countless items in your closet to create an instantly polished look.  This is a seasonless piece that can be worn with beautiful sweaters in the colder months and a silk top and jacket or cardigan in the warmer months.  Skirt length should be right above the knee or right below. 
*Fashion don't: Do not pair this with a sweater that has a hood.  Some items of clothing are 'confused' and if they could speak they would tell you they have no idea what they are for.  A pretty sweater wtih a hood should not be worn with a skirt and heels.  (This skirt is from Macys.com; Calvin Klein Skirt, Studded Pencil)

3. Dark wash jeans.  This is an essential.  Jeans should come almost to the floor regardless of the shoe you are wearing.  Use hem tape for your flats, but do not get shorter jeans for shorter shoes and try to wear them with heels!  A great dark wash without any white patches, whiskers or rips are a classic pair that everyone needs.

Donna Karan "Soho" Bootcut jean from Dillards.com.

Shapewear: TC Fine Shapewear

We all need a little bit of shaping and smoothing every once in a while.  This is one of my favorite products on the market for this very thing!  This piece shapes and mildly 'sucks in,' but it doesn't squish the chest area.  Remember when trying it on you need to step into it and then pull it up.  A bit tricky but worth it!

Don't miss my blog that is just for the men.  Click here to read the latest one called, "Pigs, Frogs and Princes!"
---
Image | Brand | Fashion
info@modaimageconsulting.com | www.ModaImageConsulting.com
Direct: (615) 218.6831 | Office: (615) 567.6969


Consultations are always complimentary!
Posted on 01/13/2011 12:00 AM by Mila Grigg, CEO
Monday, 3 January 2011
Guest Blog on www.StyleBluePrint.com
Liza and Elizabeth are the founders of one of my absolute favorite blogs, StyleBluePrint.com.  If you haven't checked it out yet, it is worth every minute of your time! Voted Nashville's best blog by the Nashville Scene readers!
Here is an little bit about them and the blog in their own words!

We Elizabeth Fox and Liza Graves began writing StyleBlueprint in January 2009. We are both married and each have 3 beautiful children. Our past careers saw many 60+ hour work weeks, so we fully grasp the crazy lives that women lead which leaves little time for conversations with girlfriends, much less style conversations.  StyleBlueprint is our answer to this quandary. We write about things we're passionate about under the wide umbrella that defines style in our daily lives.  We seek out subjects for this blog that define our take on Southern style from a Nashville point of view with much attention given to local shops, events and services. We love the conversation that StyleBlueprint allows us to have with the women who live here and around the country.  Welcome!  We know time is precious, so thanks for spending some of it here at StyleBlueprint.  Email us and comment: it makes us feel good. 
These beautiful ladies were gracious enough to allow me to write a very fun guest blog..."Gloria Vanderbilt, Jackie O...and Snooki?" Click HERE to read it!
---
Image | Brand | Fashion
Mila@modaimageconsulting.com | www.ModaImageConsulting.com
Direct: (615) 218.6831 | Office: (615) 567.6969
Posted on 01/03/2011 12:45 PM by Mila Grigg, President